Printmaking I & II at Worcester Art Museum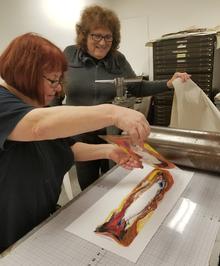 Photo:
Debra Strick printing a collagraph with monotype with Lynn Horsky at Worcester Art Museum
Corinne will be returning to teach at WAM's bright and spacious printmaking studio starting on February 1st. 
Thursday Evenings,   6-9 p.m.  February 1 - March 29       
There are still some spaces available, visit worcesterart.org to sign up
Suitable for novices and experienced printmakers, we will cover a variety of techniques using non-toxic materials and water-soluble inks.  Develop works in the medium of your choice while exploring color, composition, form, and personal imagery.  Students will be guided through image preparation, transfer methods, ink and paper preparation, registration, rolling techniques, tool-sharpening and printing on an etching press and by hand.