Cherry Press on the Road: Fall Workshops at EFA-RBPMW in NYC & Danforth Art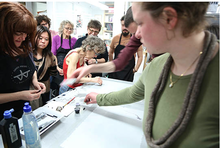 Photo: Leslie Jean-Bart, Cherry Press Century Plate Demonstration at EFA-RBPMW on April 20th
Coming this Fall to EFA-Robert Blackburn Printmaking Workshop in NYC:  Non-toxic Century Plate Litho I and II Weekend Workshops
Non-toxic Century Plate Lithography
Saturday and Sunday  9/30, 10/1, 10/7 and 10/8  10.30 a.m. - 4.30 p.m.

Non-toxic Century Plate Lithography Part II
Saturday and Sunday  10/28 and 10/29    10.30 a.m. - 4.30 p.m.
**Takes place during New York Print Week & the Editions/Artists Books Fair
EFA Robert Blackburn Printmaking Workshop
323 West 39th Street, 2nd Floor
New York, NY 10018
Mary Kostman pulls a painterly collagraph at Danforth Art this summer
Cherry Press on the Road: Try Printmaking at Danforth Art This Fall
Wednesday Evenings: October 4 - 25,   6:30 p.m. - 9:30 p.m. 
Learn five fabulous printmaking techniques including monotype, relief, chine-collet, engraving and embossment.  We will use all non-toxic materials to create colorful, textured and layered prints. Prerequisite: No previous experience needed.
Saturday Try Printmaking Workshop on October 14th  9 a.m. - 4 p.m.
Saturday Studio Series:(Printmaking will be on November 4th)
November 4 - December 9, 6:30 - 9:30 p.m.
Spend four fall Saturday afternoons in a relaxed art class working with a different technique or medium each week including acrylic paint, collage, drawing and printmaking.
Danforth Art    14 Vernon St, Framingham, MA 01701